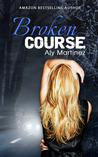 Broken Course
by
Aly Martinez
My rating:
5 of 5 stars
Received this ARC by Give Me Books and the author for an honest review.
Some how in 2014 I did not submit a review for Broken Course by Aly Martinez. That was a serious flub on my part. But I digress…
Let me start by saying that this is the first book that I have read by Aly. I know that Broken Course is the third book in the Wrecked and Ruin series and I appreciate how well Aly wrote this book that it can be read as a standalone. I did not feel loss.
I had the pleasure meeting Sarah and Leo. Aly wrote the hell out of them.
Let me give you the basics of what I loved about the book:
Their met-cutie was epic (in my opinion because it was so normal and random)
Their courtship was sweet
Their sex was HAWT (Hot with some serious oomph)
Aly gives us [the reader] this detail description of growth, self-worth, passion, love, and camaraderie. Her words conveyed the emotions of each of her characters and because of this, I wept, hyperventilated, moaned (oh those sex scenes were good) and struggled to deal.
I found that I was attached to Sarah and for anyone who has not read this book but has read all the others, don't hate. Aly has allows Sarah and the reader to forgive her (in Sarah's case herself).
Not to give anything away but the ending was fabulously written and leaves the reader satisfied.
Happy Reading.
View all my reviews